Johnathon Proctor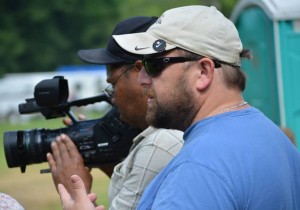 After spending over 15 years in the computer technology field, John knew there had to be something else out there for him – a new career that could reignite the passion he had once felt for computers. He had always been interested in radio, so, after a layoff in 2007, he decided to attend the Connecticut School of Broadcasting in Hasbrouck Heights, NJ to see if he had what it took to be a radio personality. The school's curriculum required John to take classes in all aspects of broadcasting, both in front of the camera and microphone and behind the scenes. He learned about mixing boards, editing, and recording, but really fell in love with being behind the camera. His teachers saw he had an eye for creating "the shot" and encouraged him to develop his skills as a camera operator. He quickly gained experience with a variety of projects, purchased his own cameras, and continues to learn all he can from the professionals he works with on every assignment. Now John earns Director of Photography credits, as well as Producing and Directing original videos and creating his own projects.
John's Experience includes:
Columbia University Baseball and Softball Camera Operator
Meadowlands Racetrack Camera Operator
Documentary: "Small Town USA" – Director AND Creator
Music Video: "Do You Like me Now", Joyce Laogoan – Director of Photography
Documentary: "50 Greatest Gospel Acts of All Time" – Director of Photography
Football Game: "Dream Bowl" Director of Video Production (3 Camera shoot)
PSA: Domestic Violence – Director of Photography
Reality TV: "Jersey Gems" – Director of Photography
Stage Production: "Real Men Pray" – Camera Operator
Feature Film: "Bad Parents" – 2nd Assistant Camera
Stage Production: "Courtney and Kathleen: A Riot Act", New York Fringe Festival – Camera Operator
Feature Film: "Molly's Theory of Relativity" – Best Boy
Feature Film: "The One" – 2nd Team Camera and Equipment Manager
"The Voice" Season 2 NJ Auditions – Production Assistant
Live Concert videos for: Margot B., Erin Barra, Burnt Sienna, Mr. Greengenes, Messina Van Nash, Butterlamb Blitz, and Exit 28.
Live Sporting Events: Producer and Camera for 2012 NCAA Division III All Star Football Game.
Camera for Mens' Professional Soccer, Womens' Professional Soccer, 2010 NFL Hall of Fame Game, High School Football, High School Soccer, High School Basketball, High School Lacrosse, High School Baseball, Little League Baseball, High School Gymnastics, NCAA Baseball and Softball.
Other Live Events include: Charity Fundraisers, Red Carpet for Movie Premieres, Corporate Announcements, White house Approved to film even with President Obama, and Weddings/Celebrations.